Monitoring Hot-Plugged USB Devices
USB Monitor Pro allows you to start monitoring USB device since the moment it's plugged into the computer.
On the program toolbar, click
to start new monitoring session for the hot-plugged device. From now, as soon as you plug any USB device into the computer the program starts monitoring this device automatically.
If you want to specify types of the packets you want to capture, start new session by clicking

on the toolbar. Then select Monitoring of a hot-plugged device in the device tree and click Advanced button to setup filters.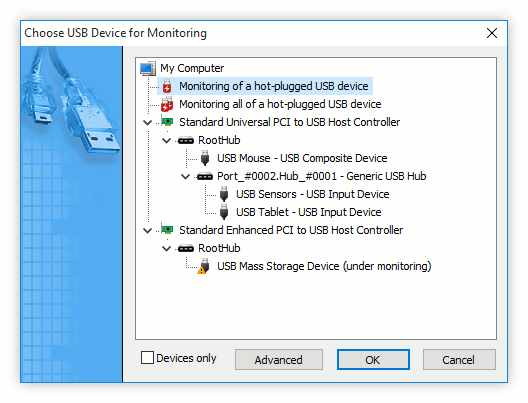 Also USB Monitor Pro allows you to start monitoring all hot-plugged USB devices (for example, several single devices, all the devices plugged into a USB hub or a complex device with a USB hub built-in).
If you want to start monitoring every hot-plugged device, click the down-arrow next to
button and select Wait for all devices in the drop-down menu.

After that a new window of USB Monitor Pro will be opened for each of the hot-plugged devices and monitoring of them will start.